Kookworkshops
Het is inmiddels alweer 16 jaar geleden dat Twines haar keuken voor het eerst openstelde voor elke culinaire liefhebber die zijn of haar passie voor koken graag met Jacques en Marco wil delen. In die verstreken jaren zijn combinaties van tal van verse en zeer smaakvolle ingrediënten dan ook tot de mooiste en meest verfijnde gerechten omgetoverd. Door de jarenlange ervaring biedt Twines je kookworkshops van een hoog en professioneel niveau voor een betaalbare prijs.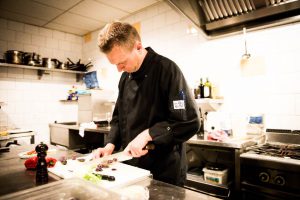 Onder begeleiding van Marco of Jacques, twee gepassioneerde koks die beide in zeer gerenommeerde horecazaken het vak hebben geleerd, beleef je een leerzame en zeer gezellige avond in de keuken van Twines. De lessen zijn voor iedereen toegankelijk. Je hoeft dus geen keukenprinses of –prins te zijn om er een geslaagde avond van te maken.
Tijdens de workshops staat de Mediterrane keuken centraal. Dagverse producten worden omgevormd tot gerechten die hun oorsprong vinden in het dolce vita van Zuid-Frankrijk, Italië en Spanje. Tijdens het verorberen van de bereide gerechten, drink je een heerlijk glas wijn dat met zorg voor je is uitgezocht en waarbij ook wordt uitgelegd waarom voor die specifieke wijn-spijs combinatie is gekozen. De recepten mogen bovendien mee naar huis worden genomen.
Genieten van een gezellige avond uit… tegelijkertijd je kookkunsten naar een hoger niveau tillen… in een professionele een keuken, waarin alles voorhanden is… dat is een kookworkshop bij Twines.
Prijzen
De kosten voor de kookworkshops zijn als volgt:
Kookworkshop tot 10 deelnemers € 400,00
Iedere extra deelnemer € 40,00 p.p.
Het maximale aantal deelnemers is 12 personen. De kookworkshops kunnen worden gepland op dinsdag of woensdag, behalve in juli en augustus.
Ook kun je je als deelnemer inschrijven voor kookworkshops op door ons gereserveerde data die wij via onze website bekend maken. Hiervoor zijn de kosten € 38,00 per persoon. Als er genoeg aanmeldingen zijn, wordt er een
3-gangen menu gekookt. Natuurlijk ontbreekt ook daarbij een lekker wijntje niet.
Cocktail workshops
Cocktailworkshop inclusief 3-gangen diner € 50,00 p.p.
Cocktailworkshop zonder 3-gangen diner € 30,00 p.p.
De workshop die op zaterdag plaatsvindt, begint om 15uur en duurt 2 uur. Aan de workshop moeten minimaal 8 en kunnen maximaal 16 personen deelnemen. Er worden ongeveer 4 cocktails gemixed.
Een leuke, leerrijke en gezellige workshop in de ontspannen sfeer van ons restaurant!