Wij zijn met vakantie van 27september tm 11 oktober
Wijn spijs restaurant in Waubach, Landgraaf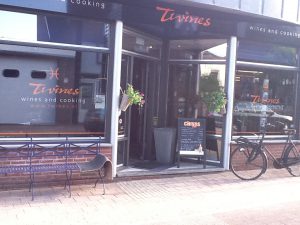 Herken je dat gevoel? Je komt ergens binnen, voelt de sfeer en denkt: hier ga ik genieten… van de volledige aandacht van je geliefde…een heerlijke discussie met vrienden… een onderonsje met een collega… en dat … onder 't genot van mond en smaakvermakers. Onder de hoede van ons team kun je oprecht genieten van culinaire hoogstandjes en bijzondere wijnen die worden gepresenteerd in een huiselijke en warme sfeer. Wil je dat gevoel ervaren? Stap dan 'n keer binnen bij Twines Wines & dining : enjoy the good moments in live.
Een 5 gangen arrangement samengesteld uit dagverse producten in combinatie met een op maat gemaakt wijnarrangement is een formule die altijd enthousiast ontvangen wordt. Heerlijke gerechten in een sfeervolle, unieke ambiance en geserveerd en gekookt met passie en vakmanschap. Het menu kost € 43,50 voor 5 gangen en wordt aan tafel uitgelegd en passend wijnarrangement kost €23,50
Twines een beproefde formule waar wijn en spijs hand in hand gaan, want alle wijnen en dranken die geschonken worden in het restaurant zijn ook te koop in onze wijnhandel of webshop. Aan tafel zorgen wij ervoor dat, als er gerechten zijn die U niet graag eet of allergies voor bent, er een passend altenatief geboden wordt in samenspraak met de chefkok. Dus altijd een heerlijk menu voor iedereen.
Op vrijdag en zaterdag is ons restaurant geopend van 18.00 tot 23.30, u kunt binnen lopen tot 20.00 maar reserveren is gewenst. De donderdagen worden ingevuld met thema avonden en voor gezelschappen tot 24 personen. Onze maximale tafelgrootte is 8 personen grotere gezelschappen worden over meerdere tafels verdeeld.

Voor reserveringen bel 0455325454 of gebruik het contactformulier